The end of an era
26 May 2022
At the end of April we waved goodbye to three of our longstanding development team members.
The trio have retired after a whopping combined 70 years for parent organisation Nottingham Community Housing Association (NCHA).
Richard Vickery, Head of Development Delivery and Programming
Richard leaves Pelham after a lifetime career in development and construction. Originally working in the private sector, he joined the Pelham development team in 1992, eventually heading up the service. He expanded our geographical remit, transformed inner-city brownfield sites, supported our move in creating environmentally sustainable homes and set up a pathway to explore Modern Methods of Construction options. During Richard's time, NCHA's portfolio increased by over 7,000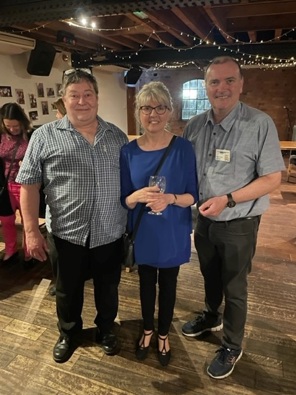 homes. Richard's dedication and enthusiasm over nearly three decades has left both NCHA and Pelham in a strong position to continue to grow in to the future.
Catherine Hewitt, Development and New Business Manager
Catherine worked in the housing sector for 34 years, with the last 20 as part of our Pelham team. She was instrumental in developing relationships with clients and helping them to achieve their housing ambitions. She leaves behind an impressive portfolio of work that's transformed communities and provided homes for vulnerable people across the East Midlands.
Rob Rushton, Project Manager
With us for nearly 15 years, Rob worked diligently on new developments, totalling nearly 1,200 homes. The retrofit installation of solar panels on 164 existing properties, in a race against time following the government's tariff scheme, and announcing his arrival in the office with "tada" every morning were some of his greatest achievements!
Their loss will leave a big hole in our team, but we are excited to announce new appointments and plans for the future. More details to follow.
We wish Richard, Catherine and Rob a happy and healthy retirement.